Infrared Imaging Services
Your Complete Source for Infrared Inspections and Thermal Imaging

Infrared Roof Moisture Surveys
Infrared Thermography Inspections Detect and Document Roof Moisture Problems. Infrared roof inspection for New York State, Capitol District, and Central New York
Infrared roof inspection is a proven method for detecting trapped moisture problems in flat roofs. Infrared roof Thermography can prevent equipment down time, production losses and help building owners and property management companies find roof problems. Due to the high cost of replacing a damaged roof, Thermographic roof inspections should be performed whenever a building is purchased, sold or leased.
Infrared roof surveys provide the diagnostic information necessary for developing an effective roof maintenance program, planning capital budgets and for making informed decisions when considering roof repairs, replacement or resurfacing with one of the popular new roof coatings.
Watch this video of a roof moisture survey and see how Infrared imaging locates roof water problems:
Infrared surveys to locate moisture in flat and low sloped roofs
Water enters a roof through defects in the waterproofing layer(s) due to deterioration, tears, cuts, poorly sealed penetrations, seams, failed flashing or caps causing the insulation to become laden with trapped moisture. The building experiences energy loss because wet insulation has a lower "R" value than dry material thus providing less thermal resistance. Water intrudes into the building's interior causing damage and loss of productivity. If left in disrepair, the concrete deck absorbs water, the wood deck rots or the metal decking components rust.
Infrared roof inspection is the perfect tool for detecting moisture intrusion and directing repair efforts to only the areas, which need it, minimizing costs and maximizing repair dollars.
Our high-resolution Infrared thermal imaging cameras, find the trapped moisture as shown in the images above. Wet areas are identified and marked to show exactly where tactical repairs are to be made. By marking wet areas directly on the roof, they can be seen by building owners and roofing contractors after the survey is performed. Often, we find that the infrared survey shows it is not necessary to replace an entire roof that only a few sections are "wet" and repairs can be made surgically to only these areas.
Here's How an Infrared Roof Scan Works…
During the day, the sun radiates energy onto the roof and into the roof substrate, and then at night, the roof radiates the heat back into outer space. This is called radiational cooling. Areas of the roof that are of a higher mass (wet) retain this heat longer than that of the lower mass (dry) areas. Infrared imagers can detect this heat and "see" the warmer, higher mass areas, during the "window" of uneven heat dissipation. Heat loss and other IR services can be performed at the same time.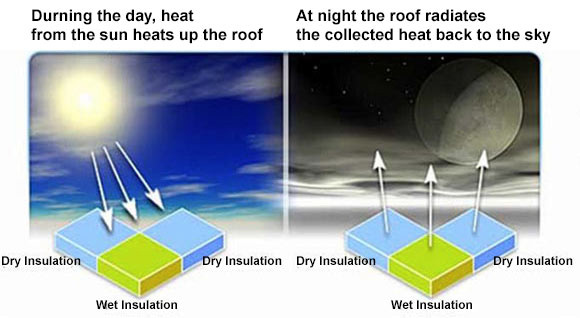 By using the information generated by a RoofScanIR report, the owner's roofing professional can recommend cost-effective and tactical removal and replacement of only wet areas. Problem areas can now be corrected without the tremendous expense of replacing the entire roof.
Visible light reference image.
We create detailed and professional Infrared reports documenting the trapped roof moisture. We designed the infrared reports so that Roof Professionals and building owners or property management companies will be able to use the information to verify the wet areas and write specifications to repair the roof. Our reports can be used to document roof conditions to ensure warranty coverage is maintained, to certify the roof substrate is dry prior to applying a roof coating material and for pre purchase inspections.
Infrared Imaging Services will scan an entire roof surface economically to reveal latent defects.
If you are an investor, seller, roofing company, facilities or property manager, finding moisture or heat loss problems in a roof is an important aspect when considering maintenance requirements and building value. A roof must be dry prior to applying a new roof coating or it will blister. We specialize in working with building owners and coating vendors for performing pre-coating inspections to ensure warranty coverage of the new coating.
Wouldn't you want to know the condition of your roof? The results of an infrared thermographic roof survey can save you thousands of dollars in unexpected roof repairs on a new building purchase or to confirm the integrity of a roof prior to a sale.
Do you have BIG roofs like a large school campus, apartment complex, shopping center or mall? The best way to see trapped moisture on these big roofs is from the AIR!
Click on the link below to see what high resolution Aerial Infrared looks like!
Solar panel arrays require Infrared roof scan to ensure the mounting substrate is in good condition
Thinking of installing solar panels? Is your roof dry? Infrared roof moisture inspections can ensure solar panels are mounted on a roof that does not contain trapped moisture. The best way to find trapped moisture in flat roofs @100% coverage is to inspect the roof with Solar Panel infrared thermography. The life expectancy of a PV solar panel array can be 15-20 years. A roof which has a latent moisture problem may require the removal of the solar array to repair the roof, possibly, just a few years after installation, and maybe sooner. After solar panels are mounted is not the time to find out you had roof moisture problems! Removing the solar panels to repair a wet roof will add significant increase to the cost of the repair, loss of power/revenues and possible damage to the panels and their electrical connections. There could also be issues with regard to maintaining the panels' warranty if they are removed and reinstalled after the original installation.
If you are responsible for the care and maintenance of a building roof, knowing the condition of your roof is important prior to having solar panels mounted. We suggest that you do not rely on the solar panel installer to determine the condition of your roof unless they are also a certified infrared inspector. Hire a professional infrared inspection company to ensure your roof is dry and ready to receive its solar array.
Infrared Imaging Services
Infrared Imaging Services is a division of Jersey Infrared Consultants and a member in good standing of the United Infrared Network. As a member, we receive support for our customers from industry experts with decades of combined experience. We are certified for BlockwallScanIR™, EnergyScanIR™ RoofScanIR™. ElectricIR™, and DataCentIR™. Call or use the Contact us page to discuss your commercial thermal imaging needs. We provide infrared electrical inspections as requested by your insurance company. We are Level III thermographers certified by the Infraspection Institute.